Krieger's Ridge Flat Coated Retriever Puppies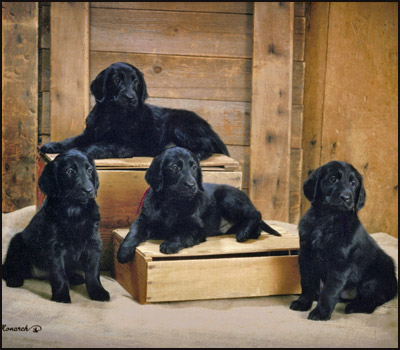 Puppies have arrived at the "Ridge".
I am currently looking to place puppies in their forever home.

Please enjoy some pictures from previous litters.


Krieger's Ridge is proud to announce the January breeding of Krieger's Ridge Tory to Krieger's Ridge Luta.

Information on Tory and Luta can be found on the Krieger's Ridge website.

If interested in either of this breeding please email
Barbara D Krieger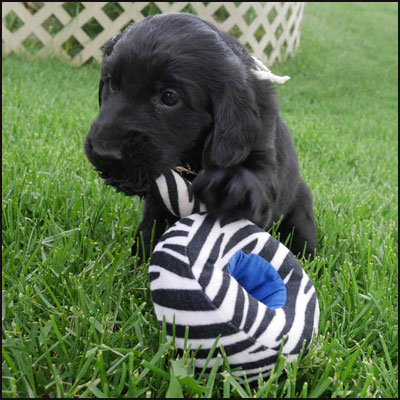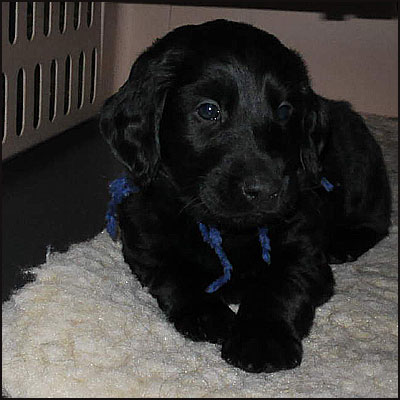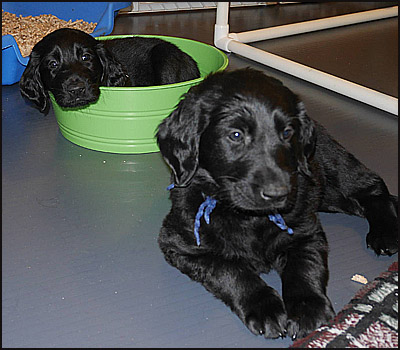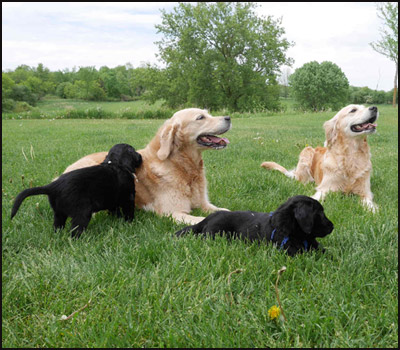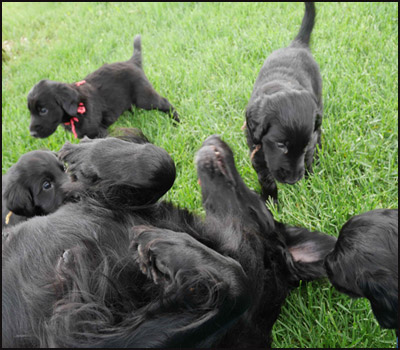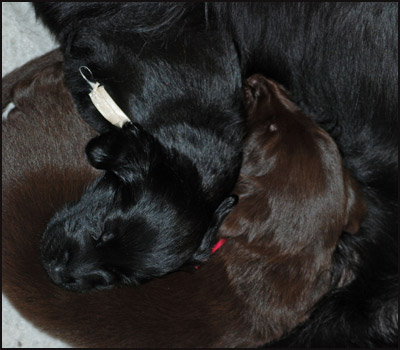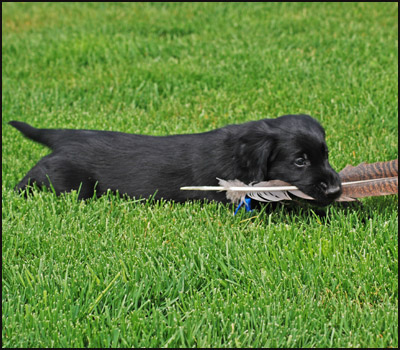 ____________________________________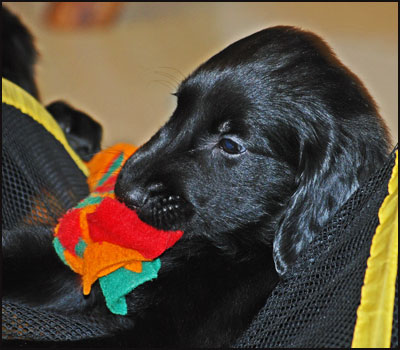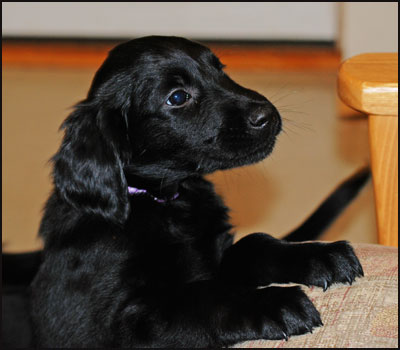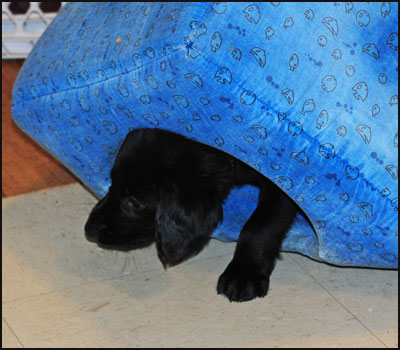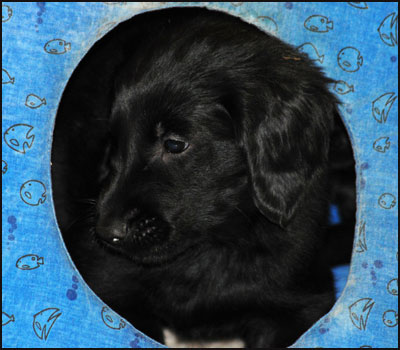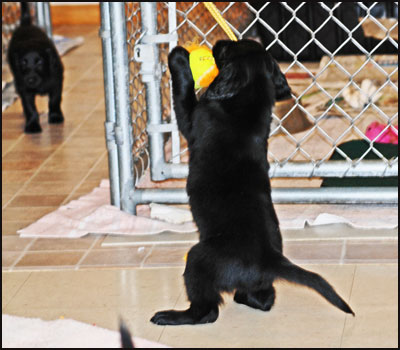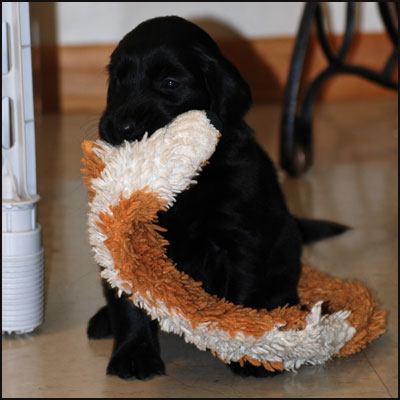 I try to be very careful when selecting a sire for one of my females. Much time will be spent looking to improve or maintain the excellent traits we see in the Flat Coated Retriever. I strive to maintain the "breed type", wonderful temperament, and natural abilities of these fine dogs. Both the dam and sire that I select for a breeding will come from excellent foundation stock. Both dogs will have been tested and cleared by the Orthopedic Foundation for hips, patellaes, and elbows. They will also have been cleared for their CERF exams (eye tests).

Health, temperament and longevity are of vital importance to me. Because I enjoy showing and hunting my dogs, structure also becomes a very important part of my breeding program. Hours are spent researching the pedigrees of potential sires. It is of the essence, that the sire and dam line and their ancestors be as free as possible of genetically linked disease; the lines have proven longevity, and that they possess the wonderful Flat Coat temperament.

All puppies are raised in the house, with lots of attention. When the time is right, we venture outside to discover the great outdoors. Fields, water, and birds await each puppy. The litter experiences a variety of stimulus, ranging from obstacle courses, tactile surfaces, strangers of all ages including children, and dogs. Each puppy will go home with a written health guarantee after being vaccinated, microchipped, and examined by a veterinarian.

If you are interested in a Krieger's Ridge puppy, I would encourage you to fill out the Krieger's Ridge Puppy Questionnaire and call 262-334-5165 or schedule a visit, so we can meet and discuss your needs.
How Do I Select My Breeder?
You can start by going to a dog show, hunt test, or online to find a breeder of Flat Coated Retrievers. Try to talk to a number of breeders so that you are able to learn more about the Flat Coat, the breeder's particular breeding lines, and philosophy about breeding and raising puppies. You will be well ahead of the game, if you select a breeder that you feel will best be able to evaluate their litter and help you select a puppy that will fit your needs and interests. It is very important for you and the breeder to feel comfortable with each other. If for some reason your instincts make you feel uncomfortable with a particular breeder, move on, there are many good breeders out there. The relationship between you and the breeder should be a long one, lasting the life of your Flat Coat, and perhaps beyond.
Questions To Ask The Breeder!

Interviewing The Breeder:

Breeders expect to be interviewed and they will interview you, too. You may want to write down your questions for the breeder ahead of time and prior to making a visit.

Here are a few questions you may want to consider asking:

Are you a member in good standing of the Flat Coated Retriever Society of America and the American Kennel Club?
How long have you been a member?
Have you signed and submitted the Flat Coated Retriever Societies Code of Ethics?
What do you think are the pros and cons of owning a Flat Coat?
What genetic problems should I be aware of in the Flat Coat?
What genetic problems or other health related issues have arisen in your Flat Coat breeding lines?
What is your focus for your breeding program?
What are the strengths and weaknesses of your Dam and Sire?
What are the ages of the Dam and Sire and how many litters have they had?
Would you be able to send or email me information on the Dam and Sire?
I would like information such as: pedigree, pictures, and health clearances.
Is it possible for me to come and see the Dam and Sire?
Do you supply the registration paperwork?
How do you raise and socialize your puppies?
At what age do the puppies go home?
Will they be micro-chipped, wormed and vaccinated?
Do you guarantee your Flat Coat puppies and for how long?
What kind of advice and assistance will I receive after the sale?

If you are interested in a Krieger's Ridge puppy or young adult please email Barbara D Krieger to request a puppy/young adult questionnaire.


Barbara D Krieger - Krieger's Ridge
7635 Forest View Road
West Bend, WI 53090
262-334-5165
Email