Gone but not forgotten ...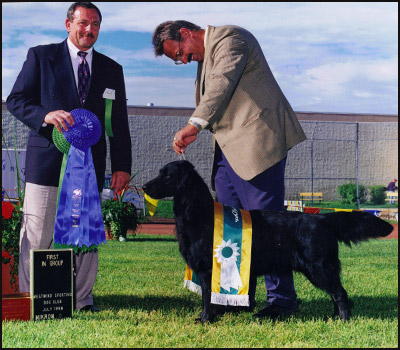 "Hawk"
BIS Am Can CH Hawk of Krieger's Ridge JH, WC, Am Can CD
In 14 months of showing, Hawk won 9 Best in Shows, which included a Sporting Dog Specialty. He had 96 Sporting Group Placements, of which 40 where Group 1's, and was the #1 Flat Coated Retriever in Canada in 1997 and 1998. In 1998, Hawk was ranked in the Top 5 Sporting Dogs and Top 15 All Breeds. He broke the Canadian record for most points accumulated in a single year. Hawk was a moderate sized dog who had a beautiful silhouette with a lovely topline and tail set. He had very nice angulations that lead to a nicely balanced front and rear. He inherited his sire's enthusiasm for obedience and field work. In the field, Hawk was an excellent marking dog with a passion for retrieving. A limited amount of semen is available to approved bitches.
Breeder: Michael and Alice Andrews

Date of Birth: 8/23/1990

Deceased: 3/06/1999

Color: Black


CERF: FR-677/97-88
Hips: OFA: FR-1415G30M


"Reilly"
CH Whatzthat Reilly Boy JH, WC, CD
With limited showing, Reilly obtained his championship including numerous Best of Breeds over Specials. He was a moderate sized dog with equally moderate bone. Reilly had very nice front and rear angulation and a prominent forechest. He was an enthusiastic retriever of Canada geese, duck, pheasant, grouse, quail, and woodcock. He combined excellent marking with lots of drive on land and water.
Breeder: Jeanne Allen

Date of Birth: 09/08/1985

Deceased: 03/06/1995

Color: Liver





Hips: OFA FR-793F28M
Eyes: eyes had been checked yearly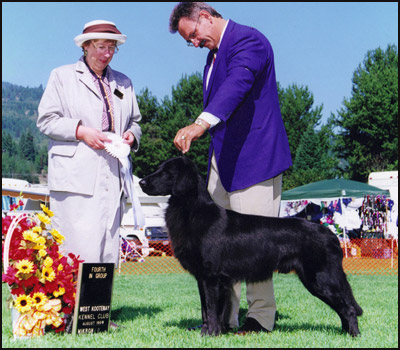 "Talon"
Am Can CH Talon of Krieger's Ridge JH, Can WC
Talon had a beautiful head piece with good fill and darker eye. His topline was very nice and flowed into a very pleasing tail set. He had very nice bone for a dog his size, and good angulation front and back. Talon loved hunting and working in the field, although he could be a bit mischievous at times.
Semen is available to approved bitches.

Breeder: Barbara D Krieger

Date of Birth: 01/31/1996

Deceased: 07/20/2004

Color: Black


Hips: OFA FR-2295G24M-T
Patellae: OFA FR-PA559/100M/P-PI
CERF: FR-1125/2002-81
Gonioscopy: Unaffected